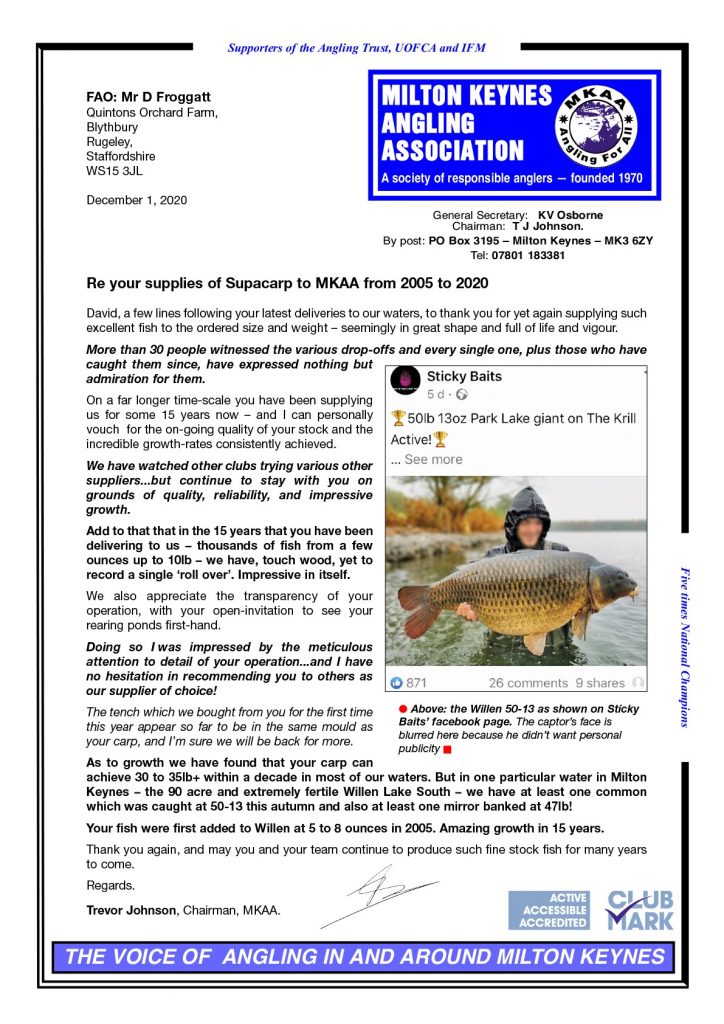 "We only stock our waters with Carp from Quintons Orchard Fish Farm UK as the quality of the fish, service and value is excellent. Both David and Lee are professional, informative and supportive and will advise on best solutions for the anglers needs and the fishery as a whole. Their service goes beyond simply supplying fish, with them helping us develop feeding plans and providing advice and support throughout the year about fish health and maintenance. The quality of the fish is second to none and they obviously take pride in developing a strong strain to meet the needs of fisheries and anglers. The size of the fish always appears to be larger than other suppliers and the amount or weight of fish is always accurate to what has been ordered. We would not hesitate to recommend Quintons Orchard Fish Farm UK to other local fisheries and clubs looking for a quality service and a 'Supa Carp'." – Martin Taylor, Founder and Managing Director of Fir Tree Fishery.
'After doing many hours research on where to purchase stock from, I opted for Quintons Orchard Fish Farm, after speaking with owner David and his manager Lee it was evident they were passionate about carp, I met David and explained I was setting up a syndicate carp fishery, David netted some of his second summer carp to show me there stock, and that was enough for me! Strain and scale patterns were fantastic along with stunning colours, I explained what I was looking for in size, shape, scales and weight, delivery was organised and delivered as arranged, all the fish were beyond my expectations and I have since had a second stocking (all doubles) the fish have grown on with excellent weight gains, and I have since placed another order…' – Private syndicate carp lake Fishery manager Neil Davies
'Quintons Orchard Fish Farm supplied our new stock for our new match lake and bridge pool.The fish are fantastic quality, and growing well. The carp are very hard fighting and anglers comment on how pretty they are. Just what they want. The tench and crucians are quality fish too and our anglers are very happy with them.
I highly recommend Lee, David and staff for their good service help and advice. Lee in particular spent plenty of time organising and helping us make the right decisions as to quantity needed to make our lakes successful.
A big thank you from all at fisherwick lakes.' – Peter, Fisherwick Lakes, Lichfield
The fish David supplied are excellent and stunning. Everyone who catches them comments on how brilliant they look," said Angle owner Ann Adlington.
Winters can be cold in the Gateshead area but Ann's fish, stocked two and a bit years ago at 6 to 8 ounces, have already reached the 3lb+ mark.
"They appear to have spawned and small ones are regularly appearing in catches." – Ann Adlington, Gateshead.
80 Members of Alvis AC decided to invest in Staffordshire Carp and were over the moon 8 months later. "We had them at a shade under half a pound and some are now 4 to 5 pounds," said secretary Nev Charnell. " We just can't believe how fast they are growing." – Alvis AC Lake, Nuneaton.
Stocked into Willen South at 5 to 8 ounces in very early January these "Supa-Carp" were caught to weights in excess of 3lbs in June of the same year. "Bruno said that, given mild winters, they have the potential to reach 35 to 45 lbs within 10 years… and for their weight they fight like fury," said MKAA Chairman Trevor Johnson. Willen Lake, Milton Keynes.
We brought a number of 1-3lb Carp from here last year, They are stunning looking fish and have done really well in our lakes, add to that David and Lee were easy to deal with making the buying process straight forward, we will definitely be back for some more!! – Damian – Bradshaw hall fishery
My fishing club (Todmorden angling society) have been buying "Staffordshire Supacarp" every year for the last 10 years. We have always been supplied with excellent quality fish at a very reasonable price and they have always been delivered exactly when we want them, all of our dealings with Lee and David have been very friendly and respectful, delivery on the day is always at the time and place as arranged with excellent communications at all times. – Ray barber – Todmorden Angling Society